Has a Death Occurred? We Are Available 24/7
(831) 204-1219
Live Chat
Call Us
Live Chat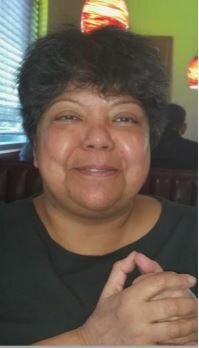 Obituary of Monica Eva Collins
Monica Eva Collins was the 8th of 8 children born to Anastacio and Martina Sanchez. Although she measured less than 5 feet tall, she was extremely tall when it came to her spirit and her loving heart. Monica was an "old soul", even as a small child. She had the ability to see past the surface in people. She was a good listener and sharp observer of people. Sometimes her sight was even "mystical". She had the uncanny ability to perceive things on the spiritual plane.
Monica loved to read – she started early in life. She read voraciously. She also loved people to read to her.
Monica brought much love, light and laughter to people around her. She loved all types of music and often asked "Alexa" to play her favorites so she could sing and dance, even when by herself.
Monica was known to do such things as introduce herself to a busload of strangers on a long trip and ask everyone to introduce themselves so that everyone could get to know each other and enjoy themselves. When she couldn't get tickets for "Motown the Musical" in California, she decided to buy tickets for the closing week in Detroit, and use the visit to invite family and friends to attend the musical as a celebration of her sister's birthday ( the sister who lives in the Detroit area). When visiting the Motown Museum in Detroit, she sang and danced along to familiar songs with gusto, even getting to meet members of the musical's cast.
Monica loved to travel, and while traveling loved to engage new people in lively conversation. She visited France, Ireland, Mexico, Iceland, sailed through the Panama Canal, and enjoyed cruises of all types.
Monica was a woman of strong opinions, just like the rest of her family. She saw herself as a speaker for those not having a voice, whether it was as a board member for her condo association, or as a medical ombudsman.
Monica made her living for a while in food service for the State of California. Her husband David graduated from the same program as she did. They were married for over 35 years, with never a doubt about how much they loved, and still love each other.
Monica loved bold colors, especially red, dogs, funny jokes, and cooking meals for others. In short, she loved life and inspired others to do the same. She loved and loves her family and surely now wants those who remain behind to keep singing, dancing, and loving others and loving God. Those who knew her know she had many challenges in her life, which she faced with faith and tenacity.
Monica had a faith in God like her personality – strong and expressive. There were many times when she would call a family member and ask them to pray with her.
Monica is survived by her husband David Collins, and siblings: Martha Spadaro, Mary- Alice Steinman, Dora Ann Sanchez-Mead, Becky Sanchez, Robert Sanchez, and Barbara Sanchez. She also leaves a large extended family full of loving nieces, nephews and cousins. She was preceded in death by her parents, Anastacio Sanchez and Marty Armenta, and her brother David Sanchez.
To send flowers to the family or plant a tree in memory of Monica Collins, please visit Tribute Store
Visitation
2:00 pm - 5:00 pm
Wednesday, November 15, 2023
Mission Mortuary Seaside Chapel
1915 Ord Grove Avenue
Seaside , California, United States
Funeral Mass
11:00 am - 12:00 pm
Thursday, November 16, 2023
St Francis Xavier Catholic Church
1475 La Salle Avenue
Seaside, California, United States


Share Your Memory of
Monica